Best Selection & Prices in New Orleans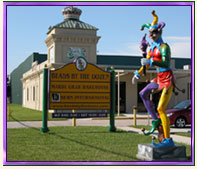 Be sure to visit the Beads by the Dozen showroom when you're in New Orleans. Over 15,000 square feet of shopping showcasing everything from fabulous Mardi Gras beads, party decorations, Christmas items, plush toys to unique gift items and decorator accessories. A must stop for the serious Mardi Gras Reveler!
Retail Store Hours
Monday - Friday 9:00 am - 5:30 pm
Saturday Closed
Sunday Closed
We will be closed Thursday, November 28th and Friday, November 29th for the Thanksgiving Holiday. Any orders placed after 12pm on Wednesday, November 27th will not ship out until the following Monday.
Google Map
Below you will find a useful Google map so you can find your way to the best Mardi Gras shopping in New Orleans—the Beads by the Dozen Showroom—of course!.