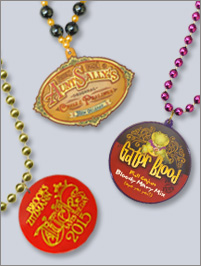 Thanks to improvements in design and production processes, which have made it possible to transform ever more imaginative flights of fancy into reality, certain beads featuring insignias, themes and mascots have become highly collectible. A well-executed design can thus create a lasting identification between a business or organization and its constituents. And as many event and party planners have come to recognize, custom necklaces—festive in appearance and highly noticeable when worn—serve to memorialize special occasions while also promoting fun and conviviality.
Whether you provide your own artwork or tap our in-house design capability, our experienced team is ready to help you explore a full range of options including plastic and polystone medallions and figurines, screen-printed disk medallions and light-up Blinky Beads™.
The Process
While creating a custom bead isn't exactly rocket science, it helps to keep in mind that a variety of variables can figure into the cost: quantity, finishing, size, number of colors and the type of beads used in the design. Also please note that all 3-D medallions and figurines require the casting of a mold.
While the choice of polystone or plastic depends in part on design and aesthetic considerations, quantity is often the determining factor. Depending on the size of the order, the per-piece cost for designs featuring plastic medallions and figures, even when the mold charge is factored in, can be significantly less than polystone.
Once you pay for a mold, you own it. Which means that after the custom items you ordered have been produced, neither we nor anyone else can use your mold without first obtaining your permission.
Before a mold is produced, the client must first approve artwork and then place an order for the items to be produced from that mold. Once that's taken care of, we create the mold and manufacture a production prototype of the custom design for client approval.
Turnaround time varies depending on the type of custom item being produced, how long it takes for a client to approve a production prototype and whether modifications need to be made to the prototype. When a turnaround time is specified, it refers to how long it will take from approval of artwork to delivery of the finished items via the least expensive mode of transportation available. Expedited production and delivery options may be available at additional cost.