Thanks to improvements in design and production processes, which have made it possible to transform ever more imaginative flights of fancy into reality, certain beads featuring insignias, themes and mascots have become highly collectible. A well-executed design can thus create a lasting identification between a business or organization and its constituents. And as many event and party planners have come to recognize, custom necklaces—festive in appearance and highly noticeable when worn—serve to memorialize special occasions while also promoting fun and conviviality.
Beads are a natural for increasing brand awareness because they create excitement and invite audience participation. As anyone who has experienced Mardi Gras in New Orleans can attest, beads and other so-called "throws" transform parades into an interactive experience -- facilitating thrilling, if fleeting, connections between strangers. Spectators beg, negotiate and scramble for treasure, while parade participants get to play Santa Claus
Whether you provide your own artwork or tap our in-house design capability, our experienced team is ready to help you explore a full range of options including plastic and polystone medallions and figurines, screen-printed disk medallions and light-up Blinky Beads™.
Follows is a list and brief description of the various bead styles that are available. Be sure to visit our sample galleries to view some of the designs we have created for our customers. Do not hesitate to contact our helpful staff with your questions.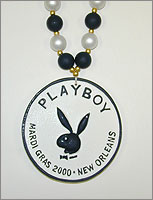 Polystone Medallions and Figurines
Polystone is a ceramic-type material that adapts beautifully to designs rendered in three dimensions. Because of their heft and lustrous appearance, polystones have a keepsake quality—yet are surprisingly affordable, even when ordered in small quantities.
Just about any design is possible with polystone, be sure to explore our sample galleries for some samples and inspiration.
Download our Polystone PDF brochure..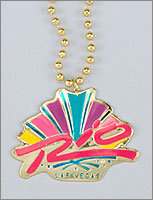 3-D Plastic Medallions and Figurines
Three dimensional plastic molded designs can be created with stunning results. Due to the cost of producing the mold, plastic medallions and figurines are generally only recommended for quantities numbering in the thousands.
For examples of some of the possibilities of plastic molded beads, be sure to browse our sample galleries. You might be surprised as what we can do!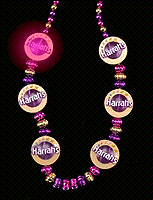 Blinky Beads
Talk about a fascinatingly original promo item. Or a great enhancement to a line of merchandise featuring recognizable icons or licensed characters. A custom Blinky is the ultimate attention-grabbing necklace -- and an awesome souvenir! We'll transform your mascot, emblem, logo or other design into a three-dimensional light-up figure for placement around a beaded necklace. Take it over the top in deluxe fashion by adding a custom medallion.
Be sure to check out how our customers have lit up their events with Blinky Beads in our sample galleries.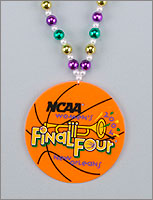 Plastic Disk Medallions
Plastic disc beads are an awesome and affordable way to create your own custom bead. Simply add a medallion to an existing bead style and you've got an impressive promotional give-away.
Two-dimensional plastic disk medallions are available in an array of colors and can be customized with screen-printed, four color print and foil-stamped designs.
Download our Screen Print and Hot Stamp Disc PDF brochure.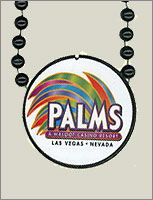 Inline Medallion Necklaces
A Kern International exclusive, our Inline Decal Medallions feature four color process artwork placed on a medallion designed so it can't be removed from the necklace.
The inline medallion necklace is a full 33" inches long and is available in your choice of sparkling metallic bead colors including black, gold, green, pink, royal blue, purple, red, silver and turquoise.
Download our Inline Medallion PDF brochure.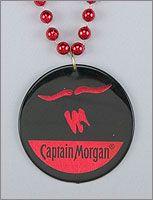 Quick Disc Medallions
Need 'em quick? Our Hot Stamped Quick Disc Medallions are available in as little as three weeks. Our Quick Discs come in matte and metallic foil finishes and can be placed on any bead design.
The perfect solution when you need your beads in a hurry!
Download our Quick Disc PDF brochure.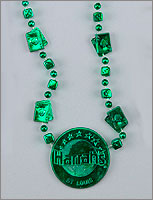 Molded Plastic Necklaces
Molded Plastic Necklace designs are an affordable and stunning way for businesses to increase brand awareness. Plastic bead designs are recommended for people needing beads in the thousands as they require the creation of a special mold.
Once the mold is created, the per piece cost makes this design an attractive option when you need a whole lot of beads to give away.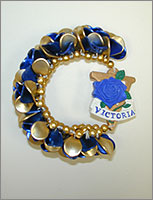 Beaded Bracelets
A beautiful and fun variation on our bead designs, our custom beaded bracelets can be created in a wide variety of bead styles and colors. Plastic or polystone designs can be placed inline with the bracelet for added impact. Our bracelets can be worn on the wrist, ankle and can even be used as a hair scrunchy or even as a small dog collar. This elastic bracelet fits all sizes. People love 'em!
Be sure to browse our sample galleries to for samples and to get a few ideas.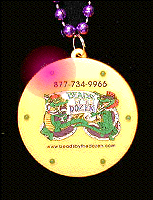 Light-up Medallions
For a high-impact alternative to the standard screen-printed disk medallion, let us surround your design* with a ring of LED lights; powered by replaceable batteries, they flash in a circular "chaser" pattern.
Kern International offers a large variety of light-up bead designs.
Browse our sample galleries to explore some your many design options.